Medical Electronics
The Medical Electronics Department at Woodley Equipment is a highly specialised department responsible for the maintenance and calibration of all patient monitoring devices, to ensure that equipment is safe, functional and properly configured prior to despatch.
Working in our well equipped Service Centre our highly qualified engineers use their technical expertise to ensure the following products are validated prior to despatch.

 
 
The Importance of our Highly Qualified Engineers
It is of utmost importance that qualified and experienced engineers perform accurate safety testing, calibration and maintenance of patient monitoring equipment. The Medical Electronics Support Team is managed by a highly qualified Medical Electronics Manager and staffed by qualified Medical Electronics Engineers.

Thorough Equipment Preparation
Safety is our top priority when it comes to the maintenance of patient monitoring equipment.  All equipment is subjected to rigorous safety checks before being despatched to ensure that the equipment arrives ready to be used in your Clinical Trial. Calibration is carried out on the equipment using calibrated instruments traceable to National Standards.

Once this safety test has been completed for all equipment, it is then carefully packaged and shipped to the clinical site using specialist couriers.  
Calibrated to National Standards

Electrical safety checks performed
 We Service Our Clients' Own Equipment Too
The Medical Electronics Department can also perform safety checks, calibration and maintenance on our customers own equipment, regardless of whether they purchased the equipment from us.
Our highly trained and specialised Medical Electronics Engineers can maintain your equipment.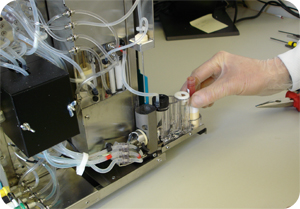 Complete Sale and Rental Service
Our advanced technical support and expertise sets us apart from other medical and laboratory equipment suppliers, with highly trained staff, Woodley Equipment can provide the knowledge and advice to ensure your clinical trial is successful through all stages of the process.
As experienced equipment suppliers we can source the most appropriate equipment based on your requirements.
Choose Woodley Equipment and benefit from our complete service
• Our experienced staff can source the appropriate equipment based on your requirements
• Organised shipment to every investigator site on a Worldwide basis
• Act as first point of contact for operational or technical support
• We will provide the appropriate consumables for the duration of the study
• Quick equipment replacement should it malfunction during the hire period
• When the study is complete we will organise the collection of the equipment
• For the hirer, we supply a monthly spreadsheet containing all equipment details, history and placements
Global Medical & Laboratory Equipment Suppliers
As well as the office in Bolton, UK Woodley Equipment Company has office and warehouse premises in New York, USA. This location increases our global reach and ensures that we are one of the leading laboratory equipment suppliers able to meet the significant demand from both North and South America 
 
For further information please contact us at enquiries@woodleyequipment.com
Woodley Equipment Company Ltd
Old Station Park Buildings, St. Johns Street, Horwich, Bolton, Lancashire, BL6 7NY, United Kingdom
Tel: +44 (0) 1204 669033 Fax: +44 (0) 1204 669034 Email:
enquiries@woodleyequipment.com
Woodley Equipment Company Ltd is registered in England and Wales.
Company No 4669537, VAT No GB546398211.