Point Of Care Testing for Clinical Trials
Point Of Care Testing in Clinical Trials
Woodley Equipment is a specialist global service provider, with unrivalled levels of customer service and a comprehensive range of laboratory and medical equipment available for rental and purchase. Woodley is the supplier to choice to many of the largest companies in Clinical Research, as well aas small and medium sized companies around the World.
Woodley are specialists in laboratory Point Of Care solutions and been providing Point Of Care solutions for over 20 years. Our highly qualified, experienced staff have a particular expertise in the field of Point Of Care.
IMPORTANT
If you can't find what you're looking for - we can source and supply ANY other Point Of Care analyser for your clinical trial. Please contact us with your requirements and we can create a tailored solution to meet your needs.
Our Point of Care Product Range includes
Benefits of Point of Care Testing for Clinical Trial
Decrease the turnaround time for results
Faster patient diagnosis, treatment and management
Rapid response to critical values
High portability - all analysers are lightweight and easily transportable
More convenient for both patient and healthcare practitioner
Can reduce the need to send samples to a central laboratory
More efficient - no time wasted handling and shipping specimens
Increased quality of samples - tested immediately so the samples are not compromised by time, conditions etc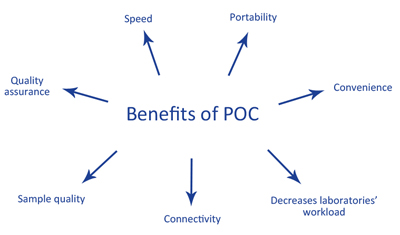 Advanced training from the experts
We can provide expert analyser training from our Chartered Scientists and Biomedical Scientists, to complement our advanced technical support. All training is available on a global basis at your convenience.
Complete Sale and Rental Service
Our advanced technical support and expertise sets us apart from other medical and laboratory equipment suppliers, with highly trained staff, Woodley Equipment can provide the knowledge and advice to ensure your clinical trial is successful through all stages of the process.
As experienced equipment suppliers we can source the most appropriate equipment based on your requirements.
Choose Woodley Equipment and benefit from our complete service:
• Our experienced staff can source the appropriate equipment based on your requirements
• Organised shipment to every investigator site on a Worldwide basis
• Act as first point of contact for operational or technical support
• We will provide the appropriate consumables for the duration of the study
• Quick equipment replacement should it malfunction during the hire period
• When the study is complete we will organise the collection of the equipment
• For the hirer, we supply a monthly spreadsheet containing all equipment details, history and placements
Global Medical & Laboratory Equipment Suppliers
As well as the office in Bolton, UK Woodley Equipment Company has office and warehouse premises in Hopkinton, Boston, in the USA. This location increases our global reach and ensures that we are one of the leading laboratory equipment suppliers able to meet the significant demand from both North and South America 
For further information please contact us at enquiries@woodleyequipment.com
White Papers to view online or to download
Woodley Equipment Company Ltd
Old Station Park Buildings, St. Johns Street, Horwich, Bolton, Lancashire, BL6 7NY, United Kingdom
Tel: +44 (0) 1204 669033 Fax: +44 (0) 1204 669034 Email:
sales@woodleyequipment.com
Woodley Equipment Company Ltd is registered in England and Wales.
Company No 4669537, VAT No GB546398211.