The Triage® Drugs of Abuse panels are available for purchase...
The Triage® drugs of abuse panel is a small, handheld urine test that provides qualitative results for up to 9 commonly abused drugs in about 10 minutes. The range of panels provide an extensive range of testing
Features
Excellent discrimination around assay cut offs
Ensures accurate patient and proficiency results
Provide superior specificity
Minimise false negative results
Template permits hard copy archiving of results
Greater cost efficiency
Accepted by COLA, JCAHO and CAP
Positive specimens produce a clear visual result
Negative specimens do not produce a visual result
Test Panels
Tests a wide range of analytes -
Amphetamine (AMP), Methamphetamine (mAMP), Barbiturates (BAR), Benzodiazepines (BZO), Cannabinoids (THC), Cocaine (COC), Opiates (OPI), PCP (PCP), Tricyclic antidepressants (TCA), Methadone (MTD), Propoxyphene (PPX) and Acetaminophen.
| | |
| --- | --- |
| TOX Drug Screen | AMP, mAMP, BAR, BZO, THC, COC, OPI, PCP, TCA, MTD, Acetaminophene |
| DOA Panel | AMP, mAMP, BAR, BZO, THC, COC, OPI, PCP |
| DOA Panel + TCA | AMP, mAMP, BAR, BZO, THC, COC, OPI, PCP, TCA |
| DOA Panel + MTD | AMP, mAMP, BAR, BZO, THC, COC, OPI, TCA, MTD |
| DOA Panel + PPX | AMP, mAMP, BAR, BZO, THC, COC, OPI, PCP, TCA, PPX |
| Express Test 5 | AMP, mAMP, THC, COC, OPI, PCP |
These Triage® Drugs of abuse panels are available for purchase for your clinical trial. They can be ordered with any other clinical trial, medical or laboratory equipment to create the most effective equipment management solution for your study.
ALSO AVAILABLE
Cassette Urine Tests
All the features of a test strip with the added benefit of a sample well and pipette transfer, ideal for small volume samples. Clean, rapid, reliable.
Multicassettes for Urine
The multiline format is perfect for medical screening where urine volumes are small.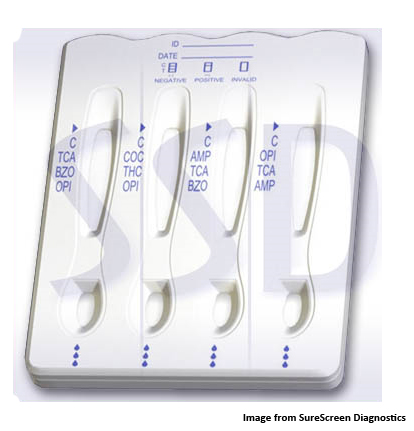 Integrated Cups for Urine
A complete drug testing system in a ealed cup with special test chamber that is evidentially secure, in essence a collection cup with temperature strip and a multipanel combined.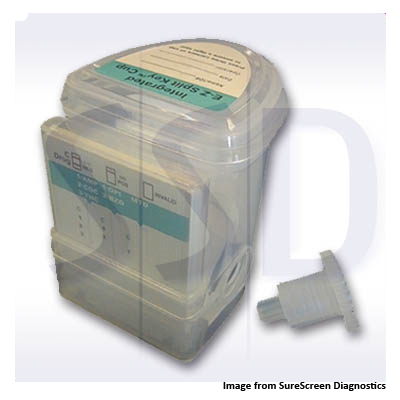 Prices
All our Equipment for your Clinical Trial is available on a rental, purchase or equipment management basis - please use the links at the top of the page to request a quotation
Specialists in Point Of Care diagnostic solutions
Clinical Trial Outsourcing | Clinical Trials Equipment | Equipment Outsourcing
You may also be interested in
Woodley Equipment Company Ltd
Old Station Park Buildings, St. Johns Street, Horwich, Bolton, Lancashire, BL6 7NY, United Kingdom
Tel: +44 (0) 1204 669033 Fax: +44 (0) 1204 669034 Email:
enquiries@woodleyequipment.com
Woodley Equipment Company Ltd is registered in England and Wales.
Company No 4669537, VAT No GB546398211.