Woodley Equipment is exhibiting at BSAVA Congress
Woodley Equipment and Quantum Vet Diagnostics are exhibiting on Stands 814 and 719 at BSAVA Congress in Birmingham
Sponsorship of Vets Now's CPD programme on Top Tips in Toxicology
Woodley Equipment are delighted to announce sponsorship of Vets Now's CPD programme on Top Tips in Toxicology
Woodley Equipment is exhibiting at Vets South 2018
Woodley Equipment are exhibiting on 7th and 8th February at Vets South - Sandy Park Stadium, Exeter.
Woodley Equipment Support Wildlife Vets International's Raptor Rehabilitation Programme in India
Woodley Equipment support the Raptor Rehabilitation Programme.
Enter your name and e-mail address here to subscribe to our newsletter.
The Woodley InSight FIV-FeLV Combi Rapid Diagnostic Test
Rapid diagnostic test kit for the detection of feline immunodeficiency virus antibody and feline leukaemia antigen in cat serum, plasma or whole blood.
The Woodley InSight range of veterinary rapid diagnostic tests are simple and easy to use and provide accurate results in just 10 minutes. Based on sandwich lateral flow immunochromatographic assays, the test kits contain 10 devices per box and are conveniently stored at room temperature (2°C - 30°C).
Kit Components
10 x foil pouches, each containing one cassette, one pipette and a desiccant
10 x assay buffer tubes (0.5mL each)
10 x centrifugation tubes
Product insert
Test Procedure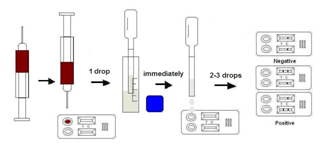 Interpretation of Results

Positive: The presence of both C band and T band
Negative: Only clear C band appears
Invalid: No coloured band appears in C zone regardless of whether T band appears.
Woodley Equipment Company Ltd
Old Station Park Buildings, St. Johns Street, Horwich, Bolton, Lancashire, BL6 7NY, United Kingdom
Tel: +44 (0) 1204 669033 Fax: +44 (0) 1204 669034 Email:
sales@woodleyequipment.com
Woodley Equipment Company Ltd is registered in England and Wales.
Company No 4669537, VAT No GB546398211.