Woodley Veterinary Diagnostics are Exhibiting at Africa Health 2013
Woodley Veterinary Diagnostics, a division of Woodley Equipment Company Ltd are exhibiting at Africa Health 2013, held in Johannesburg, South Africa at the Gallagher Convention Centre on 7th – 9th May 2013.
Woodley are Exhibiting at Arab Health 2013
Woodley Veterinary Diagnostics, a division of Woodley Equipment Company Ltd are exhibiting at Arab Health 2013, held in Dubai at the Dubai International & Exhibition Centre on Monday 28th – Thursday 31st January 2013.
AVMA 2012 - San Diego
Come and join us at the annual AVMA 2012 Convention in San Diego - Booth 409
Woodley Veterinary Diagnostics launches new product range
Woodley Veterinary Diagnostics have launched a new product range, now available to their Worldwide Distributor network
Enter your name and e-mail address here to subscribe to our newsletter.
Developed in conjunction with leading veterinary institutions, these filters offer an easy to use and much improved method of determining Worm Egg Counts (WEC) on Cattle, Sheep and Horses. They are single use devices for in vitro use only.
Flotation methods for WEC can require several Specific Gravity solutions to
cover different parasites. The two common flotation methods, 'Modified McMaster' and 'Improved Modified McMaster', both use Saturated NaCL and are both catered for with Veterinary Parasep.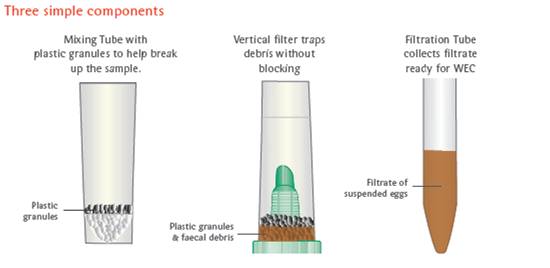 Key advantages you will notice are
Cleaner, safer method - The enclosed filtration environment keeps user contact with harmful vapours and aerosols to a bare minimum
No possibility of cross contamination - being single use and disposable prevents any possibility of sample carryover.
More accurate and consistent results - egg counts can be affected using traditional techniques, by unintentional inconsistent sample mixing.
No laborious, time consuming 'clean up' of sinks, shaker bottles and sieves - all the filtration mixing and shaking is performed inside the Veterinary Parasep tube.
Step 1.
3g of faeces is weighed, mixed with 42mls of water (IMM) or 42mls sat. salt solution (MM) and the granules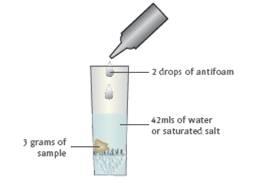 Step 2.
Mix filtered through 425 micro pored. Filtrate is then poured straight into a Mcmaster slide or a modified Mcmaster method.

Step 3.
Centrifuged and resuspended in salt solution (modified Mcmaster method)

NO MORE MESSY AND TIME CONSUMING SIEVING!
No more expensive glass beads.
No more inconsistent mixing between users.
No moe health and safety issues whilst cleaning.
No more possibility of carryover if not cleaned correctly.
Proven to provide egg counts in line with traditional methods
Independent testing by a leading Veterinary Laboratory found that Veterinary Parasep gave comparible Worm Egg Counts to both the Modified McMaster and the Improved Modified MacMaster techniques. This comparison was undertaken for Ovine, Bovine and Equine samples.
Trial users at independant veteirnary practices said
"We have found the technique easy to use and quick to perform - the instructions provided are clear and easy to follow making it simple even for those who have never prepared a sample for faecal egg counting before."
"We find that using our own practice lab for these smaples allows us to return results back to clients much faster than if we had to post a sample to a lab. We are also able to offer the client a lower price. Samples can be processed by a vet or a nuse (whomever is free at the time), with results reported on a standard practice form!.
Validated by the Veterinary Laboratories Agency for repeatable and accurate Worm Egg Counts with Ovine, Bovine and Equine faecal samples.
You may also be interested in
Woodley Equipment Company Ltd
Old Station Park Buildings, St. Johns Street, Horwich, Bolton, Lancashire, BL6 7NY, United Kingdom
Tel: +44 (0) 1204 669033 Fax: +44 (0) 1204 669034 Email:
sales@woodleyequipment.com
Woodley Equipment Company Ltd is registered in England and Wales.
Company No 4669537, VAT No GB546398211.