Clinispin Centrifuges
Clinispin Centrifuges
In Partnership with The Drucker Company, Woodley Equipment Company Ltd present the horizon range of centrifuges

Throughout 2004 Woodley Equipment Company Ltd worked with The Drucker Company to bring the first of their horizontal centrifuges to the European market.

The Clinispin horizon 642E centrifuge gained the CE Mark in autumn of that year and has now been successfully launched. Since the arrival of the horizon 642E, three more centrifuges were CE Marked, the 755VES, 842VES and 853VES.

Most recently the 842STAT, 842VET and 842COMBI have been added to the horizon centrifuge range and been CE marked.

For details of other centrifuges manufactured by the Drucker Company please visit their website www.druckercompany.com

VIEW THE HORIZON BROCHURE HERE
Why Horizontal Separation?
Horizontal separation maximises the centrifugal force, therefore reducing spin times, and a horizontal rotor produces a tighter horizontal separation line. The tighter gel line prevents re-mixing and therefore contamination and haemolysis. It is also less likely to become disturbed during shipping ensuring your samples arrive at their destination in perfect condition.
Horizontal separation is preferred and insisted on by most laboratories. The horizontal separation line is more convenient and compatible with most laboratory analysers.
Better separation
Tighter gel line   
No remixing   
No spoilt samples   
No need for re-spins
Why is a "flat line" in the gel better?
Reduces the probability that the analyser probe will contact the gel
Produces a thicker gel layer with more serum available for testing
Allows samples to be shipped and/or handled without breakthrough
Eliminates the need for the samples to be respun by the laboratory
Why can I reduce my spin times from 15 minutes to 10 minutes with horizontal separation?
The patented design of the new Horizon rotor reaches higher g-forces and utilises more efficient separation than most fixed angle units, allowing for shorter run times and a more consistent sample separation
Documents
Seeking Distributors
As the official European distributor, and with authorisation to supply the centrifuges beyond Europe based on demand, Woodley Equipment Company are seeking distribution partners for the Clinispin horizon range of centrifuges.
If you would like to become a distributor, please contact us on sales@woodleyequipment.com
We have a dedicated Service Centre for the horizon centrifuges with repairs and services carried out in-house. This centre will also undertake in-house training for the service engineers of our nominated distribution partners.
Woodley Equipment are dedicated to providing a quality service and in June 2004 gained ISO 9001:2000 status, recognising the quality of our administrative and management systems.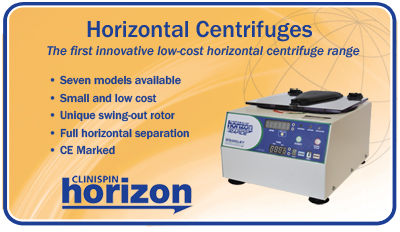 Woodley Equipment Company Ltd
Old Station Park Buildings, St. Johns Street, Horwich, Bolton, Lancashire, BL6 7NY, United Kingdom
Tel: +44 (0) 1204 669033 Fax: +44 (0) 1204 669034 Email:
sales@woodleyequipment.com
Woodley Equipment Company Ltd is registered in England and Wales.
Company No 4669537, VAT No GB546398211.