Exhibitions and Events
Woodley Laboratory Diagnostics Exhibitions and Events
Each year, Woodley Lab Diagnostics attend several exhibitions and events in order to maintain relationships with their continually expanding network of distribution partners.
Woodley Equipment also seek to develop relationships with potential new business partners to distribute their range of QBC products across Europe, Africa and the Middle East.
On an annual basis Woodley Equipment exhibit at the following events -
This year we will be exhibiting at -
IBMS, Birmingham, UK - 23rd - 25th September 2013 - Stand 126 
MEDICA, Düsseldorf, Germany - 20th - 23rd November 2013 - Stand 1E14 
Woodley Lab Diagnostics will exhibit their range of products including
Plus any other new products from Woodley Equipment Laboratory Diagnostics.
Become A Distributor
If you are interested in becoming a distributor of any of the QBC Europe products, horizon centrifuges, Vision microscopes or Reflotron Plus; please feel free to contact us. We would be happy to meet up with you at any of our exhibitions or events. Alternatively we can set up an individual meeting at our head office.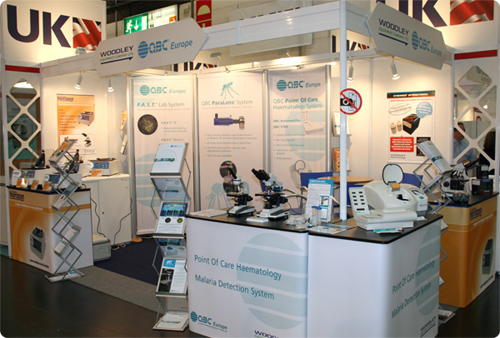 Woodley Equipment Company Ltd
Old Station Park Buildings, St. Johns Street, Horwich, Bolton, Lancashire, BL6 7NY, United Kingdom
Tel: +44 (0) 1204 669033 Fax: +44 (0) 1204 669034 Email:
sales@woodleyequipment.com
Woodley Equipment Company Ltd is registered in England and Wales.
Company No 4669537, VAT No GB546398211.