Woodley Equipment is exhibiting at BSAVA Congress
Woodley Equipment and Quantum Vet Diagnostics are exhibiting on Stands 814 and 719 at BSAVA Congress in Birmingham
Sponsorship of Vets Now's CPD programme on Top Tips in Toxicology
Woodley Equipment are delighted to announce sponsorship of Vets Now's CPD programme on Top Tips in Toxicology
Woodley Equipment is exhibiting at Vets South 2018
Woodley Equipment are exhibiting on 7th and 8th February at Vets South - Sandy Park Stadium, Exeter.
Woodley Equipment Support Wildlife Vets International's Raptor Rehabilitation Programme in India
Woodley Equipment support the Raptor Rehabilitation Programme.
Enter your name and e-mail address here to subscribe to our newsletter.
This Stat Profile Prime Veterinary Critical Care Analyser combines micro-electronics technology and advanced micro-sensor technology, to provide quick results.

Benefits

Compact
Results in 60 seconds
No user maintenance
Auto calibration
Cartridge contains all consumables
24 hour readiness
True liquid quality control (QC)
Arterial, Venous, or capillary micro-samples
Sample volume: 100µl full menu, 50µl blood gases
Parameters
Measured Parameters
pH, PCO2, PO2, Na+, K+, Cl-, iCa++, Glu, Lac, Hct

Calculated Parameters
SO2%, HCO3-, TCO2, Be-ecf, Be-b, SBC, O2Ct, O2Cap, A, AaDO2, a/A, RI, PO2/FIO2, Anion Gap, P50, Hb

Temperature Corrected
pH, PCO2, PO2

Accuracy
Stat Profile Prime uses proven Nova measurement technology in miniaturised, sensor card format.
Constant Readiness
The MicroSensor Card has an on-board use life of 32 days, and is automatically calibrated and always ready for analysis.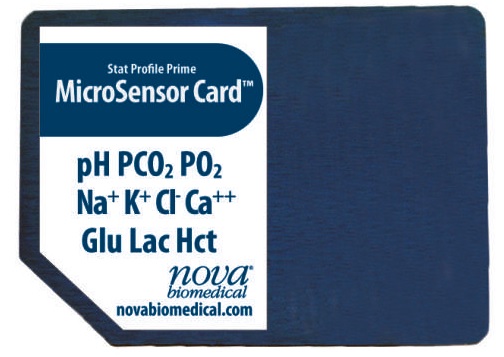 Clot Protection
The unique Clot BlockTM sample flow path is designed to protect sensor cartridges from blood clot blockages.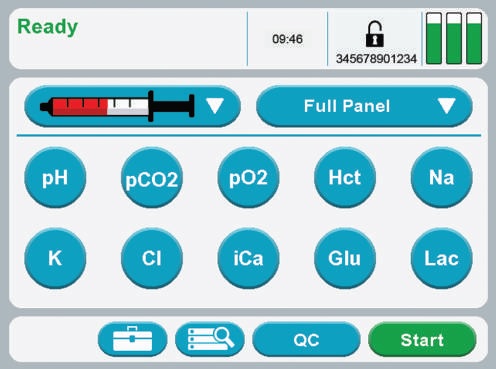 Home Screen

Test in 3 simple steps
Press "Start"
Scan or enter patient ID
Press "Aspirate"
All testing uses a single sample port. Even capillary sampling is performed without adapters.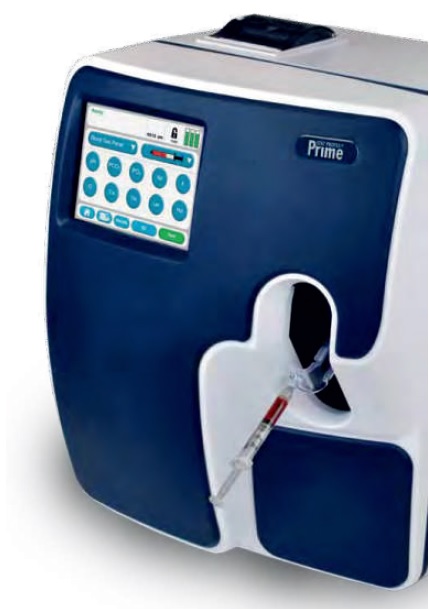 Measurement Range
Na+ 80 - 200 mmol/L
K+ 1 - 20 mmol/L
Cl- 50 - 200 mmol/L
iCA++ 0.1 - 2.7 mmol/L
Glu 0.8 - 28 mmol/L
Lac 0.3 - 20 mmol/L
Hct 12% - 70%
PCO2 3.0 - 200mmHg
PO2 0 - 800 mmHg
BarP 400.0 - 800.0 mmHg
(53.3 - 106.7 kPa)
Certifications
ISO 9001 Quality System Registration, CSA, TÜV, CE Self Declared Complies to EN 61010, EN 50081, 82


Physical Specifications
Height: 39.06 cm (15.38 in) Width: 30.5 cm (12 in)
Depth: 36.20 cm (14.35 in) Weight: 8.167 kg (17.9 lb) without calibration cartridge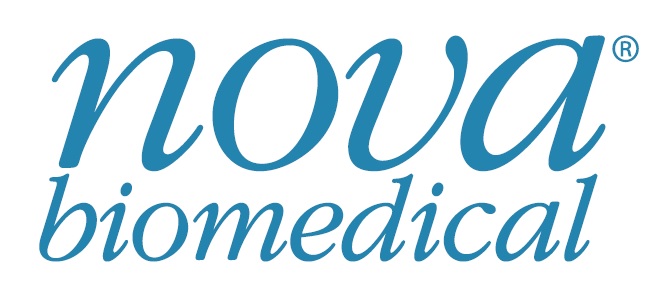 If you would like more information please call +44 (0) 1204 669033 or email sales@woodleyequipment.com
You may also be interested in
Woodley Equipment Company Ltd
Old Station Park Buildings, St. Johns Street, Horwich, Bolton, Lancashire, BL6 7NY, United Kingdom
Tel: +44 (0) 1204 669033 Fax: +44 (0) 1204 669034 Email:
sales@woodleyequipment.com
Woodley Equipment Company Ltd is registered in England and Wales.
Company No 4669537, VAT No GB546398211.