Woodley Equipment is exhibiting at BSAVA Congress
Woodley Equipment and Quantum Vet Diagnostics are exhibiting on Stands 814 and 719 at BSAVA Congress in Birmingham
Sponsorship of Vets Now's CPD programme on Top Tips in Toxicology
Woodley Equipment are delighted to announce sponsorship of Vets Now's CPD programme on Top Tips in Toxicology
Woodley Equipment is exhibiting at Vets South 2018
Woodley Equipment are exhibiting on 7th and 8th February at Vets South - Sandy Park Stadium, Exeter.
Woodley Equipment Support Wildlife Vets International's Raptor Rehabilitation Programme in India
Woodley Equipment support the Raptor Rehabilitation Programme.
Enter your name and e-mail address here to subscribe to our newsletter.

The InSight™ 5 Diff Haematology Analyser is a fully automated multi-species analyser ideal for in-practice use.


Key Features & Benefits
Easy to use
Large user-friendly colour touch screen allows accurate data entry & monitoring of results & histograms
Low maintenance
All in one reagent pack
Built in printer
Integrates with Practice Management Systems
High performance
24 parameters in 2½ minutes
5 part differential WBC results on dog, cat, horse and cattle
3 part differential WBC results on mouse, rat, rabbit, ferret, sheep, goat, pig, guinea pig and primates
Convenient
Compact benchtop size
Simple storage of reagents
Reliable and efficient
Low maintenance
Stores up to 5,000 results
Large user-friendly touch screen and integrated printer: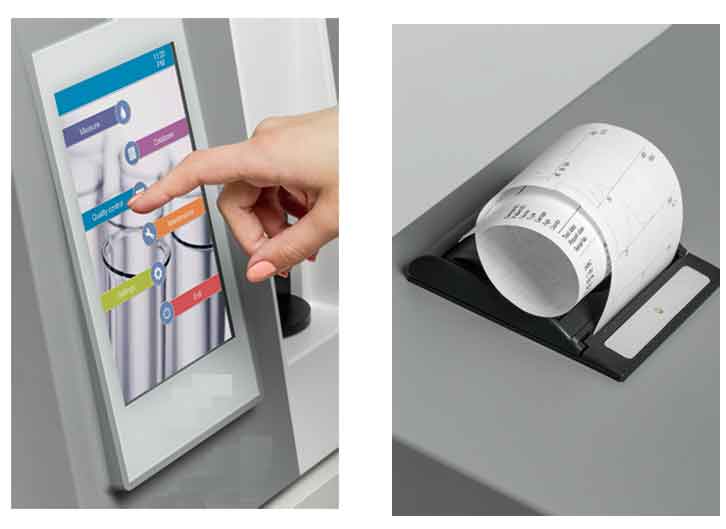 Specifications
Samples



- Throughput - up to 25 samples/hour

- Parameters - 24 haematology parameters, including 5-part WBC differential: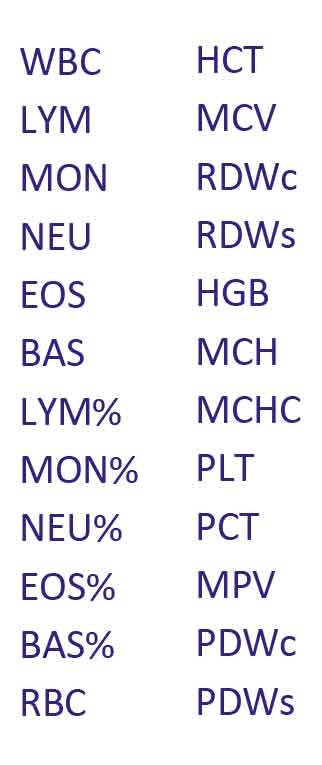 Technology

- Volumetric impedance measurement

- Light absorbance measurement for HGB

- Aperture diameter 80µm

- Sample volume - 25/50µl of whole blood in 3/5 part mode

- Sampling method - open tube system with automatic sample rotor

Sample profiles

- Five-part mode: dog, cat, horse and cattle

- Three-part mode: mouse, rat, rabbit, ferret, pig, sheep, goat, guinea pig and primates

Reagents
- Reagent pack containing Isotonic Diluent, Lyse Vet, Diff Vet5, Cleaner & Rinse Vet

- Hardware key protected pack
- Test size up to 100 measurements
User interface
- Easy to use, menu driven user interface without hardware function buttons
- Screen type - 8" (173mm x104mm) LED backlit, colour graphics LCD
- Data storage capacity - up to 5,000 results, including histograms
- Printer options - built in thermal printer (58mm wide paper)
- L J charts - Trend function allows to display with a Levey-Jennings chart the selected records from the database
- Screen resolution - 480 x 800
Communication protocol
- ASCII - based communication protocol only
- HL7 communication
Technical Features
- Cleaning functions - automatic self clean, clean washhead, drain chamber, hard cleaning, 5 cycle clean, bleaching
- Export function - 3 level export type: Simple, Advanced, Extended
- Optional barcode reader for sample ID and QC Data upload
- Log file - Display history of analyser actions/errors
Communication interface
- LAN
- USB
Dimensions
- Width 31.5cm (12.4")
- Depth 27.5cm (10.8")
- Height 37cm (14.5")
- Weight 13kg (28.6lbs)
- Power supply - 100-240v AC, 12V DC

Woodley Equipment Company Ltd
Old Station Park Buildings, St. Johns Street, Horwich, Bolton, Lancashire, BL6 7NY, United Kingdom
Tel: +44 (0) 1204 669033 Fax: +44 (0) 1204 669034 Email:
sales@woodleyequipment.com
Woodley Equipment Company Ltd is registered in England and Wales.
Company No 4669537, VAT No GB546398211.