Woodley Equipment is exhibiting at BSAVA Congress
Woodley Equipment and Quantum Vet Diagnostics are exhibiting on Stands 814 and 719 at BSAVA Congress in Birmingham
Sponsorship of Vets Now's CPD programme on Top Tips in Toxicology
Woodley Equipment are delighted to announce sponsorship of Vets Now's CPD programme on Top Tips in Toxicology
Woodley Equipment is exhibiting at Vets South 2018
Woodley Equipment are exhibiting on 7th and 8th February at Vets South - Sandy Park Stadium, Exeter.
Woodley Equipment Support Wildlife Vets International's Raptor Rehabilitation Programme in India
Woodley Equipment support the Raptor Rehabilitation Programme.
Enter your name and e-mail address here to subscribe to our newsletter.
The Mythic 18 Vet - The Ultimate Technology in Haematology
The Mythic 18 Vet is a fully automated 18 parameter veterinary haematology analyser. With its compact size and lightweight design, the Mythic 18 Vet is ideal for use as a veterinary specific benchtop analyser in the smallest of veterinary practices or clinics. It is a quick and efficient haematology analyser capable of performing 60 tests per hour and can be used on samples from 10 different species. It requires a low level of maintenance and just a 10μl sample size.
Key Features of the Mythic 18 Vet
Quick and easy to use
Fully Automated
Compact and lightweight
Colour Touchscreen
60,000 patient memory*
Built-in reagent pack
Multi-language setting (11 languages)
10 Species Available
60 second analysis time
Low power consumption
Easy maintenance *Expanded from 1,500 with a USB
Ten Species Available
The Mythic 18 Vet Haematology Analyser is capable of providing an accurate, 18 parameter haematology test for the following animal species:
Sheep
Goat
Rabbit
Mouse
Rat
Simultaneously Tests up to 18 Parameters
The Mythic 18 Vet is able to test the following 18 haematology parameters simultaneously:
Leucocyte Parameters:
Erythrocyte Parameters:
Thrombocyte Parameters:

WBC - White Blood Cells
LYM% - Lymphocytes percentage
LYM# - Total Lymphocytes
MON% - Monocytes percentage
MON# - Total Monocytes
GRA% - Granulocytes percentage
GRA# - Total Granulocytes
EOS - Flag

RBC - Red Blood Cells
HGB - Haemoglobin
HCT - Haematocrit
MCV - Mean Corpuscular Volume
MCH - Mean Corpuscular Haemoglobin
MCHC - Mean Corpuscular Haemoglobin Concentration
RDW - Red Blood Cell Distribution Width

PLT - Platelet
MPV - Mean Platelet Volume
PDW* - Platelet Distribution Width
PCT* - Thrombocrit
Components of the Mythic 18 Vet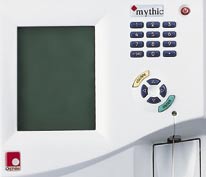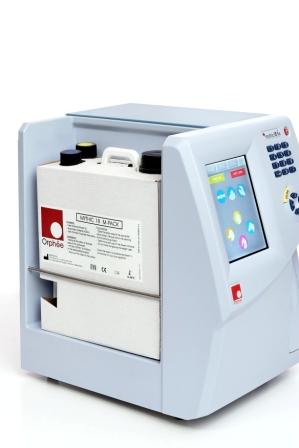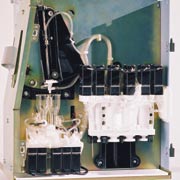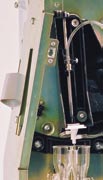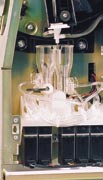 QVGA Touch Screen Built-in Reagent Tray Only 3 Hydraulic Needle and Chambers
Modules dismountable without tools
Mythic 18 Vet Specifications
Parameters

18 parameters + 3 curves: WBC, LYM% and #, MON% and #, GRA% and #, EOS flag RBC, HGB, HCT, MCV, MCH, MCHC, RDW, PLT, MPV, PCT, PDW RBC curve, WBC curve, PLT curve

Throughput
60 samples per hour
Sample Volume

10 µl

Output

RS232, Ethernet (UDP/IP, TCP/IP protocol) 2 USB ports Centronics port Barcode scanner port

Reagents

Cyanide free (up to 200 tests per pack*)

Printers

External printer Dot matrix printer / thermal printer / monochrome inkjet printer / monochrome laser printer

Power (voltage & consumption)

90 to 250 V, 50 to 60 Hz Less 50 VA

Graphic Interface

Menu with icons for direct access to main species

Technology

Impedance (WBC, RBC, PLT) Spectrophotometry (HGB)

Users Interface

TFT colour touchscreen Built-in numerical keyboard

10 species available

Dog, Cat, Horse, Cattle, Pig, Sheep, Goat, Rabbit, Mouse and Rat. 10 other species can be programmed by the user

Calibration
Automatic or manual
Flags

• Pathological flags (programmable) • Lab limits (programmable) • Reagent alerts • Instrument alerts

Quality Control

Liquid QC material available Table and Levey Jennings graphs

Memory

1500 patient internal memory Mass storage USB up to 60,000 patients

Multilanguage

French, English, Spanish, Portuguese, Italian, German, Chinese

Traceability

• Patient identification; Name, Patient Id, Sample Id

• Daily log

• Reagent monitoring: lot number, expiry date, volume

• Service log
Mythic 18 Vet Haematology Analyser Ordering Information
| | |
| --- | --- |
| Product Code | Item |
| WD1320 | Mythic 18 Vet Analyser |
| WD1322 | Mythic 18 Vet M-Pack (6 pack) |
| WD1321 | Mythic 18 Vet M-Pack (1) |
| WD1155 | Cleaning Solution (250ml) |
| WD1327 | Mythic 18 Diluent (10L) |
| WD1323 | Mythic 18 Diluent (20L) |
| WD1328 | Mythic 18 Lytic Solution (500ml) |
| WD1324 | Mythic 18 Lytic Solution (1L) |
| WD1325 | Mythic 18-22 Cleaning Solution |
| WD1326 | Mythic 18 Vet Waste Container |
| WD1154 | Haematology Control |

If you would like more information or to arrange a demonstration please contact 01204 669033 option 1 or email sales@woodleyequipment.com
You may also be interested in
Woodley Equipment Company Ltd
Old Station Park Buildings, St. Johns Street, Horwich, Bolton, Lancashire, BL6 7NY, United Kingdom
Tel: +44 (0) 1204 669033 Fax: +44 (0) 1204 669034 Email:
sales@woodleyequipment.com
Woodley Equipment Company Ltd is registered in England and Wales.
Company No 4669537, VAT No GB546398211.