Synermed International Near-Infrared Diagnostic Reagents
Woodley Appointed Exclusive Veterinary Distributor for Near-Infrared Diagnostic Reagents in the UK and Europe.
Synermed® International Inc. is a development based diagnostic biochemistry company, established in 1989. Since that time, the Indianapolis, Indiana headquartered Company has invested millions of dollars in research toward the development of a new generation of diagnostic reagents and instruments.

Synermed has developed two reagent technologies which are unique in the diagnostic biochemistry world.
Near-Infrared Detection
Synermed's N-IR Detection enables widely used automation to avoid serious inaccuracies due to lipemia, haemolysis and icterus.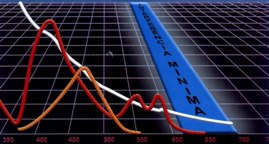 Liquid-Stable Ready-to-Use Reagents
Most Synermed reagents are supplied in liquid form and are ready-to-use as supplied, conferring considerable economic advantages and on-board stability.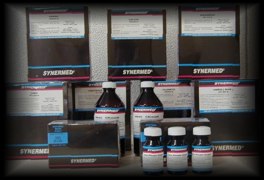 Synermed leads the world in technology for stabilising enzymes and coenzymes and in the synthesis of chromogens producing chromophores absorbing at the 660 and 700 nm wavelengths available on most modern biochemistry automation.


SGS ISO Certification
Synermed is an FDA GMP and ISO 13485 certified developer and manufacturer.
Synermed has supplied reagents for over 500,000,000 tests to one of the world's largest laboratories owned by a Fortune 500 pharmaceutical company. Synermed's reagents are used widely and are in use in North America, China, Europe, Latin America, and India.
Woodley Appointed Exclusive Veterinary Distributor for UK and Europe
Synermed International Inc., headquartered in Westfield (Indianapolis) Indiana, USA is pleased to announce the appointment of Woodley Equipment Ltd., headquartered in England, as Synermed International's exclusive seller of its near-infrared reagents for use in veterinary laboratories and practices. Woodley has added Synermed International trained IR202 repair personnel to insure technical competency.
Synermed International's appointment of Woodley came in response to U.K. customer demand for supply of Synermed interference minimising infrared reagents.
In the past, Synermed International had supplied its reagents and provided technical support through a former subsidiary; Synermed Europe Ltd. Synermed International no longer will supply the former subsidiary and Woodley Equipment is in no way associated with Synermed Europe.
Synermed International has further agreed to extend technical support to Woodley Equipment Company Ltd.'s Quantum Vet Diagnostics affiliate in order to optimally integrate Synermed International's near-infrared veterinary diagnostic reagent technology into Quantum's new-instrument developments. Synermed looks forward to this infrared-reagent and advanced instrument combination providing the best solution to Veterinary practices well into the future.
Synermed International has been most appreciative of the rapid response and extensive commitment of resources by Woodley Equipment Ltd. in assisting Synermed International in responding to U.K. customer demands.
If you would like more information please contact Woodley Equipment on +44 (0) 1204 669033 or email sales@woodleyvetdiagnostics.com