IMMUNO-CHEK G IS AN EASY TO USE LATERAL FLOW TEST FOR SEMI-QUANTITATIVE DETECTION OF IMMUNOGLOBULIN G (IGG) IN A DROP OF EQUINE WHOLE BLOOD.
Foals are born with no immunoglobulins (IgG) and must receive adequate antibodies from the mare's colostrum (passive transfer of IgG). However, up to 20% of newborn foals experience a partial or total failure of passive transfer of IgG. This can be caused by premature lactation, deficient suckling, malabsorption or low IgG levels in the mare's colostrum.
These animals are at high risk of infection and serious illness or death, so it is vitally important that vets undertake routine measurement of the IgG levels of all foals at around 12 hours old to determine there isn't failure of transfer of passive immunity (FTPI).
Features
Room temperature storage
Small sample size - 10μl EDTA/Heparin whole blood
Short test time - 10 minutes
Kit Contents
Pouches containing test device
Sample diluent
Buffer
Pipette & pipette tips
Result Interpretation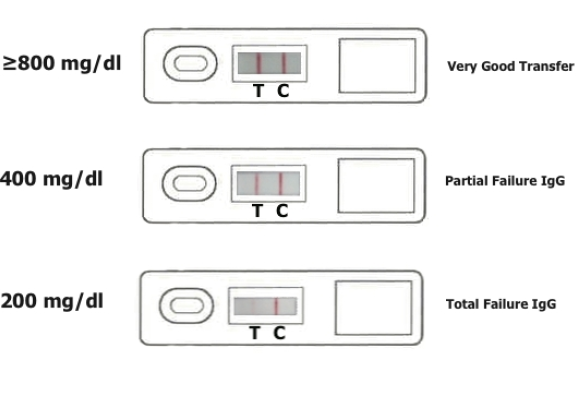 Ordering Information
| | |
| --- | --- |
| Product Code | Product Description |
| WD0471 | Immuno-Chek G - Foal IgG Test Kit (5 tests) |
If you would like more information please contact Woodley Equipment on +44 (0) 1204 669033 or email sales@woodleyvetdiagnostics.com