THE VISION V5000 BINOCULAR MICROSCOPE HAS AN INNOVATIVE LED POWERED ILLUMINATION SYSTEM THAT RESULTS IN A WHITE LIGHT INSTEAD OF THE YELLOW LIGHT PRODUCED BY FILAMENT LAMPS.
Features
50,000 hours LED light source life time (instead of 1,500 from a halogen lamp)
30° inclined head rotates 360°
Wide-field eyepieces - 10x/18m
Adjustable interpupillary distance
Dioptric compensation
Revolving nose piece, quadruple, reversed
DIN achromatic objectives 4x, 10x, 40x, 100x ( 60x objective available as an alternative or an addition)
Double layer mechanical stage, 125 x 115mm with X-Y 70 x 30mm moving range
Coaxial coarse and fine focusing
LED illuminator with adjustable intensity
N.A. 1.25 Abbe condenser with adjustable height and iris diaphragm
Wide range voltage for international markets – 100 – 240V
Plano-concave mirror
CE certified
Optional Upgrades

60x objective available as an alternative or an addition
Solar panel power source available as an optional extra



Optical System
The optical system in the Vision V5000 Binocular Microscope has been developed for demanding users; it consists of high quality components which assure a high image contrast and excellent optical resolution. The optical components have been designed and treated with special techniques to prevent the formation of moulds and fungus.
Stand
The stand is characterised by a modern and ergonomic design. It is easy to carry the microscope thanks to the large opening behind the revolving nosepiece to be used as a handle. This opening allows the user to see clearly the objectives and the samples making it ideal for use in the field especially when combined with the QBC ParaLens Advance Fluorescent Microscope Attachment.
Mechanics
The moving parts are made by means of machine tools with computerised numerical control, thus reducing manufacturing tolerance and increasing the reliability of the instrument. The strict control on materials and production process is optimised through the procedures established by ISO quality standards.
Illumination
The Vision V5000 light microscope has a revolutionary LED powered illumination system consisting of a combination of LED and optical technology. A new high efficiency single chip LED, improved by a special optical system, doubles the light intensity generated by an ordinary LED.
The resulting light is comparable to the light generated by a 30W halogen lamp but with a colour temperature of 6300L: resulting in a white light instead of the yellow one produced by filament lamps. The electric consumption of only 3W proves the high efficiency of the Vision V5000 light microscope equalling the same light itnensity with less consumption - 10% of an ordinary 30W halogen lamps consumption.
In addition, the lifetime of the LED is 50,000 hours instead of 1,500 hours of an ordinary halogen lamp.
LED Vs Halogen Light: White Light Instead of the Yellow Light Produced By Filament Lamps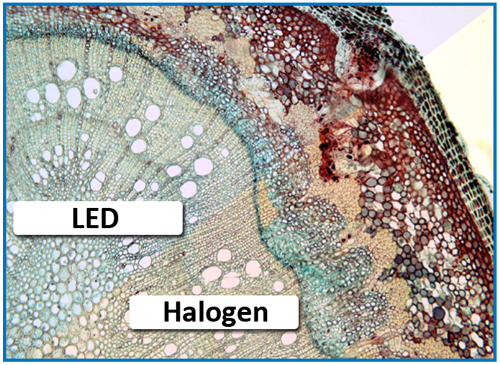 Ordering Information
| | |
| --- | --- |
| Product Code | Product Description |
| WD6202 | Vision V5000 Binocular Microscope |
| WD6203 | Solar Panel |
| WD6204 | WF10x/18mm Micrometric Eyepiece |
| WD6205 | 60x/0.85 Achromatic Objective |
If you would like more information please contact Woodley Equipment on +44 (0) 1204 669033 or email sales@woodleyvetdiagnostics.com